Jack Rawnsley
Details

Parent Category: News
Created on Thursday, 24 February 2011 20:40
Last Updated on Thursday, 05 December 2013 10:32
Published on Thursday, 24 February 2011 20:40
Written by Richard
Hits: 8273
The members of the FE-FC Holden Car Club of NSW express our condolences to the family of Jack Rawnsley, who passed away this week at the age of 99.
Jack was a GM-Holden engineer from 1936 until 1976. He was one of the small group of Holden's best engineers sent to Detroit, Michigan in the 1940s to work on the vehicle that was to become "Australia's Own Car". On his return in 1948, his role included ensuring that the Holden would be suitable for the harsh local conditions. He was responsible for the engineering of the completely locally designed FE model, and remained a loyal Holden employee until his retirement in the 1970s. Beyond that, Jack was an active member and participant in the Holden Employees Social Club until his passing.
Members of the FE-FC Holden Car Club were fortunate to meet Jack Rawnsley in Melbourne in 2006 and 2008 during celebrations of the FE and FC models' 50th Anniversaries. At functions held by the FE-FC Holden Car Club of Victoria, Jack regaled attendees with stories of the Holden design and engineering processes. Following Richard Ferlazzo's presentation on Efijy, and the design and development of the then-new VE, Jack said that the brief he and his engineers were given in 1953 for their next model had no mention of "architectural platforms". Jack said they were told "It has to be longer, wider, lower, more powerful.....Oh yes, and twelve volt.". Member Richard Thomas wrote at the time:
"Jack Rawnsley (GM-H Engineer 1936-1976) is nothing short of inspirational. At 95, he is still very sharp indeed, and gave an interesting counter-point to Richard [Ferlazzo's] presentation. There was simply not a sound in the room as the guests (95 of them) hung off his every word. He welcomed questions from the floor, and talked of his time in the US, and some of the people he met there, which included (the) Henry Ford and Benny Goodman, amongst others. He got a standing ovation when he was finished."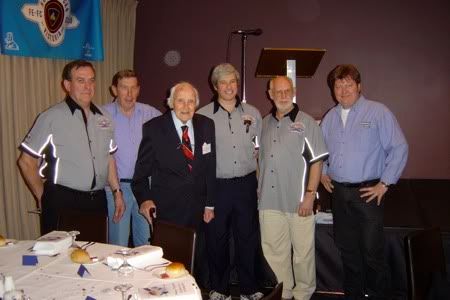 Jack was also only too happy to autograph items for the FE-FC enthusiasts, and discuss details of Holdens old and new. Member Geoff Saul recalls:
"I still have his best wishes and signature that was in perfect writing, using his other hand to support the menu he signed on when he was 94. Definitely a great Australian."
Holden Chairman and Managing Director Mike Devereux said Mr Rawnsley was considered Holden royalty by employees past and present.
"Jack and his colleagues were true pioneers and paved the way not just for Holden's success, but the Australian automotive industry as a whole. With Jack's sad passing we lose a cherished link with our past but a daily reminder of his extraordinary work is his legacy of designing, engineering and manufacturing the best possible cars for Australian motorists."
Vale, Jack.